Along our Walks

Gone But Not Forgot
RHAJA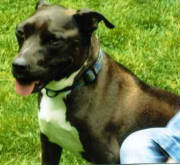 Rhaja would fly out of the house to host the gang when he saw them coming. With a particular interest in Emma he would often come out to do some serious sniffing. "Only the good die young."
TIMER
Blind Timer loved to socialize with the gang. Besides living along the regular walk route, she often cross paths at other places as well. We miss her.
INKY
Inky's yard was a regular stop on our walks. Sadly our friend has passed on, but we remember her enthusiastic and cheerful greetings.
CHLOE
Chloe was the very first Pit Pal when Adam came. At first, she loved to flit about and get Adam all excited. Later bored with the teasing, Adam would let her walk all over him, literally.